Black is Beautiful
Randomly scrolling through my twitter one day and procrastinating, I saw several tweets from boys asking what the huge deal about Lupita Nyong'o is. I couldn't blame them considering how she blew up in such a short time. Now I haven't seen the movie yet but at first I thought to myself, well maybe she did a really good job in it. But the more she took over my social media, the more I realised that the huge deal was less about her performance and more about what she stands for, being dark as night and being beautiful.
I know there was a time when a lot of dark people bleached because they didn't like their skin tone or just didn't think they were beautiful cause of how dark they were but then people started accepting that black women were beautiful and I thought that insecure phase was over. Especially since I spend a lot of time on tumblr and I see how posts on black women get reblogged and get so much love. Perhaps I was naive to think that every black girl had accepted her skin colour cause the trend of bleaching came back. And Lupita happened to be on the scene during this period hence her fame. She's showing dark girls that beauty is just skin deep and you have to accept yourself the way you are cause God didn't make a mistake when he created you that way. I listened to her speech at the Black Women in Hollywood luncheon by Essence and I found deep admiration for her. The part that struck me the most was when she said, "finally I realised that beauty was not a thing that I could acquire or consume, it was something I just had to be". You need to let your beauty radiate from the inside. I know she's not the first dark woman either to make such a statement either, there was Alek Wek and Ajuma Nasenyana but it's always refreshing getting a reminder that you're beautiful just the way you are, gold as honey or dark as the night.
And as far as her style goes, you've gotta give it to her. She is not afraid to rock colours that even the 'pale skin' you admire cannot. She plays with colours and she wears the hell out of them. My sister is dark and she's always played it safe when it comes to her outfits, I hope Lupita inspires her to switch it up once in a while. Having said all that, I did not roll my eyes this morning when 80% of my instagram timeline happened to be about her. If anything, I was jealous.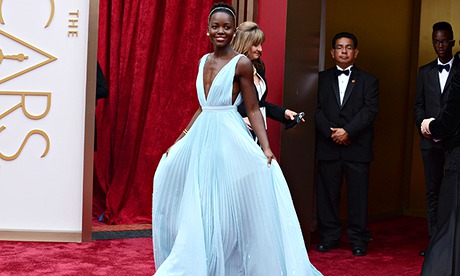 Congrats to Lupita on her Oscar Award. Keep being an inspiration to many. Read her Essence speech on black beauty
here